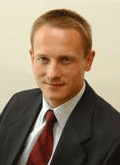 Sergey Ivanov is a Visiting Associate Professor of Management at the University of the District of Columbia, School of Business and Public Administration. His research and practice are in the area of designing high-performance organizations, including corporations, military, and government. He received his Ph.D. from The George Washington University's School of Business, working under the direction of Dr. Elliott Jaques on systemic theories in organization science. Dr. Ivanov's interests and works include research and papers in the fields of
organizations and societies, Why Organizations Fail, Accountabilities of Democracies, Organizations for the Battlefield, and Organizational Assessment of the U.S. Department of the Army.
Dr. Ivanov developed new systemic methodology to analyze large organizations rapidly, such as large multi-national corporations and departments of the U.S. federal government. This method enables analysis of work of classified organizations, without learning and revealing the proprietary work nature of these organizations, yet uncovering optimization opportunities.
His recent assignments included the U.S. Army Headquarters/Pentagon, Deputy under Secretary of the Army for Business Transformation, and Army CIO/G-6 Business Transformation. In these roles, he advised Army Leadership on organizational design of the U.S. Army organizations.
Professor Ivanov has taught management courses at the University of the District of Columbia, as well as at The George Washington University's School of Business for over ten years, and has collaborated with the most respected scholars and authors in the organization science field. Dr. Ivanov is actively engaged with the U.S. and International Standards Boards, and is a voting member of the ANSI/ISO 9000 Committee on Quality Management and Quality Assurance, and InterNational Committee for Information Technology Standards on Database.
Dr. Ivanov enjoys invitations to speak on the topics of management, organizations, and societal changes. He also serves on the Board of The Cambridge Institute for Applied Research. More information about Dr. Sergey Ivanov is available at www.SergeyIvanov.org, where he answers questions on the topics of leadership, society, organizations, and shares his ideas.