Bali Attractions: What to See in Bali
A trip to Bali can be filled with culture, nature, art, the spiritual or, even better, all of the above. Apart from the spectacular beaches of Kuta, Nusa Dua and Seminyak or Ubud's cultural heart and picturesque terraced rice fields, the northeastern coastal towns and Lombok Island are hidden gems awaiting discovery. The west coast is still off the beaten path, with tapering ranges of mountains covered in lush forests, wet rice fields and bountiful vegetation.
First timers to Bali may feel overwhelmed by its multitude of offerings, and narrowing down the choice of where to go and what to see may prove to be a difficult task. Bali is just too fascinating, and if you really want to get to know Bali , a week-long itinerary can hardly cover it all.
Luckily, here's an easier way – a shortcut – carved out for you. The selection of Top 10 Things to Do below is designed to help you get started.
1 Besakih Temple - Eastern Bali
<![if !vml]>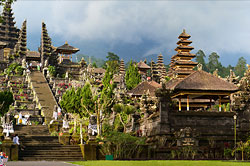 <![endif]>
Over a thousand years old, Besakih Temple is known as the "Mother Temple of Bali" Perched on the slopes of Mount Agung , at a lofty 1,000 metres (3,000 feet) Besakih is the biggest and holiest of all the Balinese temples.
Eighteen separate sanctuaries belonging to different regencies and caste groups surround the three main temples dedicated to Shiva, Brahma and Vishnu. To the Balinese, visiting the temple sanctuaries is a special pilgrimage. The mountain top setting gives it an almost mystical quality.
2 Tanah Lot Temple - Tabanan
<![if !vml]>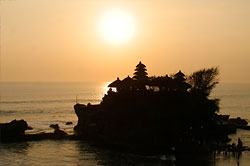 <![endif]>
The royal Taman Ayun temple was built by one of the last priests to come to Bali from Java in the 16th century. The temple stands on top of a huge rock, surrounded by the sea and is one of Bali 's most important sea temples. Tanah Lot pays homage to the guardian spirits of the sea. Poisonous sea snakes found in the caves at the base of the rocky island are believed to be guardians of the temple, standing vigil against evil spirits and intruders.
3 Uluwatu Temple - Uluwatu
<![if !vml]>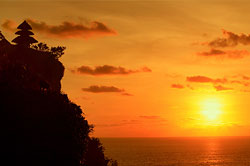 <![endif]>
Bali's most spectacular temples located high on a cliff top at the edge of a plateau 250 feet above the waves of the Indian Ocean.
Dedicated to the spirits of the sea, the famous Pura Luhur Uluwatu temple is an architectural wonder in black coral rock, beautifully designed with spectacular views. A popular place to view the sunset.
4 Tegallalang Rice Terraces - Ubud
<![if !vml]>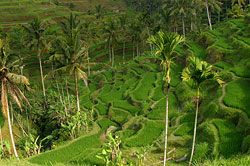 <![endif]>
Blessed by its cooler air and geographic location, Ubud has become famous for its beautiful scenes of rice paddies involving 'subak' (the traditional Balinese irrigation system), which according to history was taught by a revered holy man from India named Rsi Markaneya in the eighth century. To explore some of the most splendid terraced landscapes in Ubud, peddle or trek to some of the villages around Ubud such as Pejeng, Tegallalang and Campuhan, where you will enjoy the perfect frame of amazing rice paddies overlooking the hills and river.
5 Kintamani Volcano - North West - Batur
<![if !vml]>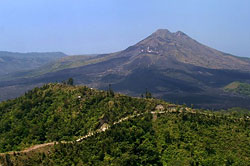 <![endif]>
Known for its dramatic landscape of the still-active Mount Batur volcano and its crater-lake, the Kintamani village is one of the must-visit destinations on many travellers' itinerary. The towering Mount Batur has erupted about 24 times since 1800, each time reshaping the surrounding landscapes. On a clear day, get the best view of Batur volcano and the entire Kintamani area from the opposite end, at the edge of the 8-km wide Batur Lake .
6 Garuda Wisnu Kencana - Southern Bali
<![if !vml]>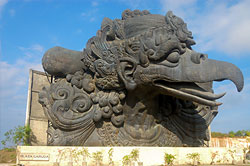 <![endif]>
Prior to its recent incarnation, the Garuda Wisnu Kencana (commonly known as GWK) monument was an abandoned limestone excavation which was no longer being used by local residents. Today the GWK can be compared to The Sleeping Buddha in Thailand or the Giant Buddha in Hong Kong .
Aside from the beautifully carved limestone cliff surrounding the monument, GWK also has various facilities from restaurants to an amphitheatre where occasional performances take place. Please make sure to visit GWK at dusk to catch its dramatic panorama when the sunset cuts through the limestone carved wall.
7 Bali Safari and Marine Park - Gianyar
<![if !vml]>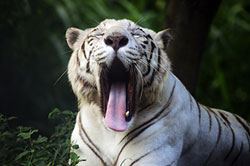 <![endif]>
A fun day out awaits your discovery at Bali Safari & Marine Park , one of the island's most visited animal theme parks. The park shelters more than 60 wildlife species, all of which roam free as if living in their natural habitats. Enjoy riding on a tram to visit the animals, watching fascinating elephant talent shows, getting cuddly with baby orang-utans, petting baby sharks at the aquarium. Families traveling with children will have a blast together at the water park here.
8 Elephant Safari Park of Desa Taro - North Ubud
<![if !vml]>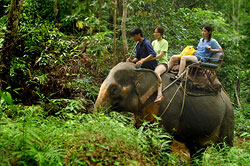 <![endif]>
Lumbering around... Bali 's majestic elephants can be found in the Bali Elephant Safari Park of Desa Taro, north of Ubud. This park offers visitors a chance to get up close and personal with the peaceful giants and also go for a sight-seeing expedition on the backs of these towering peaceful creatures.
9 Bali Botanical Garden -Denpasar
<![if !vml]>
<![endif]>
Housing more than 2000 species of plants, Bali Botanical Garden is a tourist attraction, research and conservation centre in one. It is set on an expansive 389 acres of well-manicured gardens, with plants acquired from eastern Indonesia , arboreta, commercial nurseries, plant breeding programmes and collection expeditions abroad. The specialized plant collection, including ferns, orchids, cacti, Begonia, medicinal plants, roses, aquatic plants and ceremonial plants, is a must-see.
10 Kecak Dance - Denpasar
<![if !vml]>
<![endif]>

Read more: Top 10 Things to Do in Bali - Bali Must-see Attractions http://www.bali-indonesia.com/attractions/top-ten.htm#ixzz1aQeJ1QyS
Read more: Bali Attractions - What to See in Bali http://www.bali-indonesia.com/attractions/#ixzz1aQdzi7ZB